Students at the New Zealand College of Chiropractic explore the principles of chiropractic with a particular focus on the synergistic relationship between its philosophy, science and art.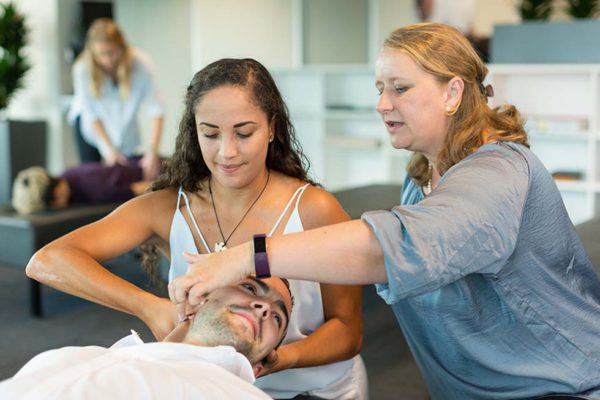 The College attracts students from all over the world who are looking for a balanced academic and practical programme in an innovative and supportive learning environment. Our curriculum is informed by the same vitalistic understanding that chiropractic has of the body's ability to self-regulate, self-organise and self-heal.
Gearing up
Before studying at the New Zealand College of Chiropractic, students must complete a minimum of one year of approved prerequisite study in basic health science courses at university level. Everything students are taught at the College builds on this foundational knowledge.
Getting started
The first two years at the College focus on gaining an understanding of the philosophy of chiropractic and chiropractic communication alongside the practical skills required to become an excellent adjustor. The curriculum covers a wide range of well-established chiropractic techniques and the coursework expands on prerequisite scientific understanding of how the body works and what happens if it doesn't.
Finishing strong
The final two years are focussed on professional practice. Students learn the ins and outs of running a chiropractic business, they build their own client base and transform the lives of local communities. It's during this time that students put the philosophy, art and science elements of chiropractic together.
Your chiropractic journey
New Zealand College of Chiropractic Pillars of Learning
Philosophy (the 'Why')
We take a vitalistic approach to chiropractic. We acknowledge the body's innate ability to heal itself and chiropractic's role in helping people express optimal health and wellbeing.
Art (the 'How')
We teach a wide range of techniques and students get to develop their skills from day one with the guidance of the College's first-class mentorship.
Science (the 'What')
Our curriculum is continually updated to include the latest research and evidence-based practice. We constantly introduce new technologies and innovative teaching because our faculty are just as passionate as our students.
World-class teachers
The College boasts a wide variety of lecturers and mentors, from New Zealand and around the world. They are renowned and hold advanced degrees in a range of science fields as well as having many years of chiropractic practice experience.